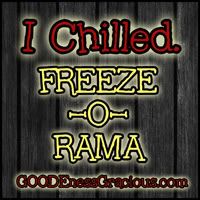 I'm late.
For. Everything.
So please don't act slightly surprised that I missed yesterday's official link-up for our awesome Freeze-O-Rama.
But because I am a slacker never one to give in, I'm writing up the post today.
Here's the scoop -- 12 recipes made and replicated 12 times by a bunch of farm gals equals lots of full freezers and lots of happy women who don't have to do dishes for a while!
Score one point for all of us chicas!
And because I am a bad blogger, I didn't really take photos of my recipe through each step like so many other gals did, so I'm going to post a bunch of random photos with captions and throw in my recipe at the end.
Sound like a plan?
I thought so!
(Also note, there were a buncha gals there that I didn't post pictures of. I took pictures of everyone, but some of them didn't turn out so flattering -- if you aren't pictured here, trust me, it's for the best! You're welcome!)
This is the big 'O stove with two ovens we were able to use. All that tomato sauce and other canned goods were part of Heather's manicotti
Here's Liz fixin' up some bacon for her quiche (and if you look closely, you can see the tongs she "lost" under the electric skillet!)
Here's Gal Megan and Frugalista Barbara mixing up some pumpkin muffin goodness. (look past them on the floor and you'll see the sweetest ingredient they brought with them)
What a cutie! (Frugalista's daughter and Gal's niece!)
This is where my attempt at blogging a recipe officially begins. Just remember, this is for a recipe 10x!
This is just a part of the ingredients I brought along in order to make 10 batches of Cheeseburger soup! That's 20 pounds of potatoes, 7 onions and 10 pounds of Velveeta!
Here's more of my Cheeseburger soup preparedness -- 6 pounds of carrots and those same potatoes (only peeled) and celery. Special thanks to Isabella (the MAD grandma) and Big D for help with all the chopping and peeling! You gals are the best!
)
Step 1: Brown beef
Step 2: Cook up all those dang vegetables you chopped up
Step 3: Get completely sidetracked listening to the other cooking farm gals and stop taking pictures.
Step Somewhere In the Middle of the Recipe: add some potatoes and a bunch of basil (obviously "some" and "a bunch" are not accurate measurements)
Step # Almost at the End: add alotta Veleveeta and let the pot simmer until it's all melty and delicious and making your stomach growl.
Step Closer to the End: Fix yourself a little bowl to make sure "it tastes alright" before giving it away to all your blogger buddies.
This is what one recipe of Cheeseburger Soup times 10 looks like. Both of those huge pans are almost full.
And every now and again I have a stroke of genius and that's what happened here. I was planning to send my gal pals home with a bag of soup each. But it was so hot coming off the stove, I couldn't hold the bags without burning my hands. Thankfully, the church we were at (shout out to Rocklane! It's my church!) had a bunch of pitchers. And - wahlah- hot bags of soup cooling and not burning anyone!
Finished product!


And because I know you'll all want to try this on your own, here's the recipe (click on the images and they'll open larger). It's one of those foods that, somehow, gets better if you cook it, eat a bit, refrigerate the rest and then finish off in a couple days. It's always better after it sits.